Skip to Content
The Celebrated Bar In Philadelphia
Raise a Toast to Next-level Cocktails
A sultry speakeasy for late-night escapades, the Franklin Mortgage & Investment Company hides behind an unmarked door – a subtle nod to a bootlegging backstory that dates back to Prohibition. Secretive and full of intrigue, it caters to a crowd that favors dark corners, low light, Coltrane tunes, and come-hither cocktails. Reservations required.
Sunday-Thursday | 5pm - Midnight
Friday-Saturday | 5pm -2am
Go Ahead, Have A Sip
The imaginatively crafted cocktails you love are back and, dare we say, better than ever. Edgy, occasionally experiential, always next-level, these are the drinks that made The Franklin Lounge the most sought-after bar in Philadelphia.
Event Hosts: Creating Unforgettable Experiences
For intimate gatherings that leave a lasting impression, our charming Lounge is at your service. From cozy dinners to relaxed get-togethers, our hosts add that personal touch to make your event unforgettable. Reach out to us today and let's make your events a big success.
Maybe You've Heard…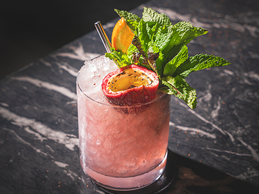 Menus
Spirit Forward
Hand In The Dark
Coffee Cynar, Rum, Scotch, Blackberry
---
Destroyed By Fire
Lapsang Infused Gin, Vermouths, Cherry
---
---
---
Best Served Cold
Gin, Vermouth, Caper, Sardine
---
Rabbit Stew
Carrot, Gins, Clarified Lemon, Kümmel, Celery Seed
---
Italian Leather Sofa
Rum, Genever, Espresso, Wheat, Lemon
---
Refreshing
Trauma Bond
Whiskey, Mulled Wine, Wheat, Citrus
---
How Like A Queen
Rye, Sherry, Créme De Noyaux, Pear Shrub, Citrus
---
A League Of Their Own
Bonded Bourbon, Allspice, Lemon, Sprite
---
Apology Accepted
Rum, Yakult, Pineapple, Banana, Lime
---
Ayyyyyyyyeee
Sambuca, Sugar, Acid, Bubbles
---
Up To The Stars
Sotol, Guava, Tamarind, Lemon
---
Classics
Gimlet
Agricolo, Lime Cordial, Fresh Lime Juice
---
Negroni
Gin, Campari, Red Vermouth
---
Mai Tai
Jamican Rum, Guyana Rum, Lime, Orgeat
---
Old Fashioned
Rye, Bourbon, Demerara, Bitters
---
Toronto
Rye, Fernet, Demerara, Bitters
---
Waldorf
Rye, Vermouth, Absinthe, Bitters
---
Chilcano
Pisco, Lime, Ginger, Soda, Bitters
---
---
---
Shareable
Tropical Fuck Storm
Agricole Rum, Sailers, Blanc Vermouth Aged & Served In A Coconut - Serves 2
---
Top Shelf Classics
Skinny Margarita
Don Julio 1942 Ultima Reserva, Lime, Agave, Bitters, Salt
---
Country Life
Port, Rhum, Bourbons, Bitters
---
New York Sazerac
Rye, Cognac, Demerara, Absinthe, Bitters
---
New Orleans Sazerac
Rye, Demerara, Bitters, Absinthe
---
Corn & Oil
XO Rum, Falernum, Lime, Bitters
---
Beer
nicethingsBEER, nicethings HAZY IPA
---
Japas Oishi White, Belgian Witbier with Ginger
---
Half Acre Daisy Cutter, American Pale
---
---
---
Bitburger, German Pilsner
---
Miller 'High Life,' Lager
---
Peroni 'Nastro Azzurro,' Italian Lager
---
Wine
Sparkling
Champagne, Veuve Clicquot, 'Yellow Label,' Reims, FR
---
White
Pinot Grigio, Scarpetta, Friuli, IT
Sauvignon Blanc, Spy Valley, Loire, FR
Chardonnay, Bravium, Russian River Valley, CA
---
Rose
Syrah/Granache, M.Chapoutier, 'Belleruche,' Rhône, FR
---
Red
Pinot Noir, Row Eleven, Santa Barbara, CA
Cabernet Sauvignon, Daou Vineyards, Paso Robles, CA
Nebbiolo, Villadoria, 'Bricco Magno,' Langhe, IT
Malbec, Terrazas de los Andes, Mendoza, AR
---
Small Bites
---
Marinated Olives
Castelvetrano, Verdial, Cuquillo, Zorzaleña
---
Mixed Nuts
Cashew, Marcona Almond, Hazelnut & Pistachio
---
---
Spreads
---
Pimento Dip
Pimento, Sharp Cheddar, Jalapeno
---
Tinned Fish by Fish Wife
---
Wild Caught Smoked Albacore Tuna
---
Smoked Salmon w/Fly By Jing Sichuan Chili Crisp
Flatbread Crackers, Lemon
---
Cantabrian Anchovies in Extra Virgin Olive Oil
French Baugett, Butter, Lemon
---
Non Alchoholic Beverages
---
---
---
---
Fassionola
Strawberry, Mango, Pineapple, Hibiscus, Soda
---